SHOREDITCH TOWN HALL, LONDON
The EVP Sessions
Saturday 14 November 2015
Start time: 8pm
Tickets: £11
Shoreditch Town Hall
380 Old Street
London EC1V 9LT
Website: shoreditchtownhall.com
Electronic Voice Phenomena returns with a series of electrifying live sessions featuring the very best in hauntology, spoken word, glitch noise and performance. The EVP Sessions takes its inspiration from Konstantin Raudive's notorious Breakthrough experiments of the 1970s, in which he divined voices-from-beyond in electronic noise. Enter the labyrinthine basement of Shoreditch Town Hall and experience a "mind-boggling", "perplexingly good" avant-garde cabaret of human, ghostly and machine voices.
Featuring
EX-EASTER ISLAND HEAD
LAURA BURNS, TIM MURRAY-BROWNE & JAN LEE
ROWAN EVANS & MAISIE NEWMAN / DUNCAN GATES
LUKE JORDAN / GARETH DAMIAN MARTIN / NICK MURRAY
NATHAN PENLINGTON / JOANNE SCOTT
ANTOSH WOJCIK / NICOLA WOODHAM

with special guest
SJ FOWLER
_
+ + +
_
Programme of works
Ex-Easter Island Head, On the day that he died we watched the rescue of the last miner
A performance for prepared electric bass and vibration speakers.
exeasterislandhead.com
@EXEIH
Laura Burns, Tim Murray-Browne & Jan Lee
A performance using interactive software to place sounds in 3D space that are triggered by body mass.
lauraburns.co.uk
janlee.org
timmb.com
Rowan Evans & Maisie Newman, this is not the night sky
'I haunt the unknown dimensions of a simulated space.' A collaboration of poetry and video in response to a fear of viewing digital 360° images, objects and the empty field beyond their periphery. This is a field from which the body remains absent, and which the voice extends towards.
de-bug.tumblr.com
rowanevans.blogspot.co.uk
@maysiie
@rowanpevans
SJ Fowler
stevenjfowler.com
@stevenjfowler
Duncan Gates, Dark London, with Davis Fenn: GORE-ditch Town Hall
Join another of Davis Fenn's famous audio-tours as he delves into the hidden depths of Shoreditch Town Hall, unearthing mystery, intrigue and suspense. WILL YOU SURVIVE?!
bastardwing.wordpress.com
@Duncan_Gates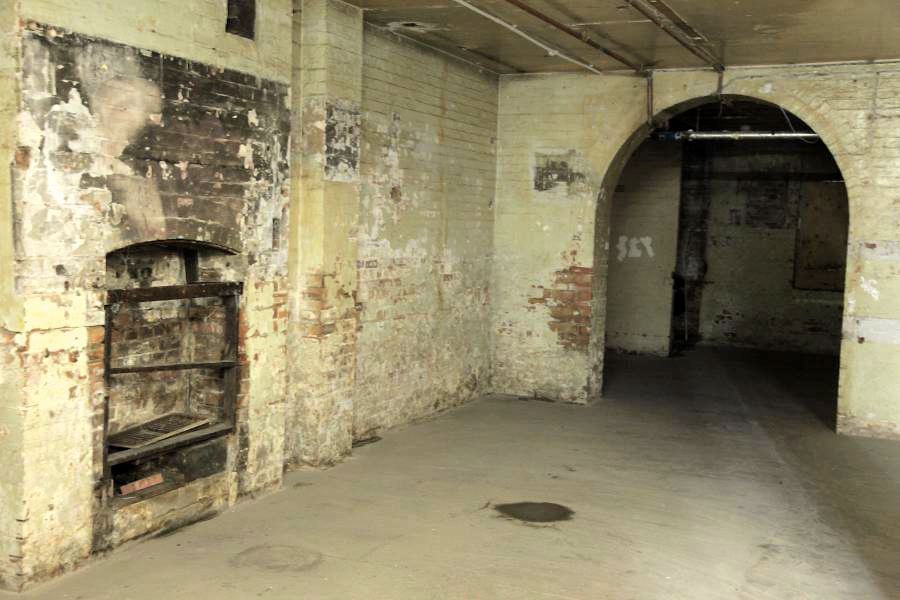 Luke Jordan
An artistic exhumation of the experiments of Konstantin Raudive, and the explorations of spirit mediums in Victorian seances, in the form of a pseudoscientific performance installation. Within it, objects become animated, 'possessed' by manipulated acoustic feedback and unintelligible vocalisations, creating an immersive multisensory noise, in which participants may unearth meaning, or achieve a 'breakthrough'; becoming inherently active in the flow of communication, miscommunication, matter, energy and affect.
Gareth Damian Martin, Asterion, after Borges
The house is the same size as the world; or rather it is the world.' Asterion is a live exploration of a virtual labyrinth, projected onto the walls of Shoreditch Town Hall's basement. A combination of digital architecture, live readings and emergent soundscapes, the result is a multi-threaded exploration of the Minotaur myth.
jumpovertheage.com
@jumpovertheage
Nick Murray
'It's not reel-to-reels or spectrometers anymore. Download the latest iSpectre or strap on your VR headset.' The spirit board is a curiosity of its time, but its methods are as uncanny today as they ever were. Nick Murray gives the spirit board a technological overhaul. Virtual space and The Beyond overlap to explore the nature of ghosts.
motherivy.com
@terratrouve
Nathan Penlington, Break Through in Grey Room
An experiment in psychic ability and group psychology becomes an intimate interactive experience of contemporary EVP. Imagine having proof of sounds made by something invisible to human ears and eyes, and you leave with that proof forever as a record of an inexplicable moment.
nathanpenlington.com
@NPenlington
Jo Scott, The Salford Samples
This live audio-visual piece explores male voices from the musical history of the city of Salford through the present voice and actions of a solo female performer. Through the creation of a live vocal score in combination with images and sampled sounds, this history is evoked, re-imagined and re-played.
joanneemmascott.com
Antosh Wojcik, Building A Voice-Percussion Gun To Kill Glitches In Memory
A performance of Alzheimer's effects on voice and motor skills. Antosh Wojcik recites poems over live glitch-drumming to shift rhythms of vocal delivery. Three poems explore speech handicapped by dementia, constructing a sound-weapon to kill his mother's inherited Alzheimer's and questions for a grandmother walking with Alzheimer's in the afterlife.
antoshwojcik.tumblr.com
@antoshwojcik
Nicola Woodham, The Ravens of Shoreditch Park
Nicola Woodham will conjure a new vocal entity in alliance with her raven collaborators from local Shoreditch Park. Distorted bird call recordings and a variety of voice miking techniques will be layered during the live performance. A portentous, experimental non-verbal and text based narrative will unfold.
nicolawoodham.com
@NicolaWoodham